Download - Pharma Prints
Phamra Prints is a brand promoted by Design Concepts.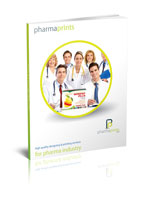 Phamra Prints is a brand promoted by Design Concepts.

We are into printing industry since last 12 years and have been upgrading ourselves as per the industry standards. We provide Visual aids, Catch Covers, labels, Posters and much more for Pharmaceutical Industry.
Click here to download our price list cum catalogue.
Feel free to contact us with any query you have about pharma designing and printing services, we will be happy to help you. Call us now at +91 98370 73828.
About PP
History
Pharma Prints is an initiative of Design Concepts who is into Designing and Printing Industry since 1999.
Design Skill
Our team of professional is passionate about their work and they enjoy what they do.
Printing
Pharma Prints is a full service company for every sort of printing service related to pharmaceutical product labels and packaging.
Exposure
Exposure to pharmaceutical industry has made us perceive that the marketing of pharma products is immensely different from the marketing of other products.